Every week, she has a session on sexual and reproductive health with primary and secondary school students within and outside Lilongwe City. All along, she used to carry printed copies of SRH information documents to use as reference material during the session. This made her carry a back-pack that would inconvenience her at many times as she travels to different schools.
Thanks to Tune me, http://mw.tuneme.org/   a mobile site and facebook page that has made life very easy for her. As a peer educator, she uses the site to get updated information and refer her friends to access similar information.
Maureen Phiri, 22years, is one of the only two peer educators working in Lilongwe as a volunteer with National Girls Education network. She volunteers to engage boys and girls through face to face session where she discusses with them about their sexual health and career.
"I have been using TuneMe since I came to know about it in October 2016 and it has proved handy to me because I do not have to carry documents to when I go to conduct my peer education sessions," says Maureen
She explained that the TuneMe facebook page is even more engaging as she is able to follow discussions and comments that are posted. She also uses the platform to engage with fellow young people on a particular topic.
"I also take time to read through and learn something from other posts that are on the TuneMe facebook page" she said.
She said that most of the topics uploaded on TuneMe are relevant because she is able to use such information on a local Wats App group known as Youth Action movement where they discuss issues that relate to sexual health. "Recently, we were discussing the benefits and experiences of using a menstrual cup and I found some information on the TuneMe mobile site and I used it on the discussion group; that is how relevant the site is to us young people" she said.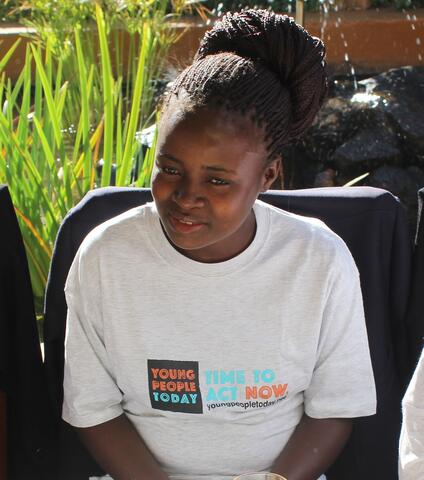 Tune-Me Mobile Site Launch
UNFPA Malawi, Youth Net and Counselling (YONECO) in collaboration with the Ministry of Labour, Youth and Manpower development under the Safeguarding Young People Programme launched the Tune-Me mobile site for Malawian Youth to have access to sexual reproductive health information in October 2016.
The site allows young people ask questions on relationships; find out information on the best options of family planning methods as well as facts about HIV and AIDS and many more.
In an effort to reach out to more young people, the launch also involved a road trip outreach campaign from Zomba to Lilongwe; a distance of about 230 kilometres while making stops at various trading centres to engage young people on how to access information from the Tune Me mobile site.
More than half of Malawi's population is below 35 years old and about 46% are below 15 years old.
Access to SRH Information
Access to sexual and reproductive health information among young people still remains low with Youth Friendly health centres as the main points of accessing correct information.
In the 2015 Malawi Communications and Regulatory Authority, MACRA Survey Report-National Household and Individual access to and usage of-ICT, more than 30% of Malawians have a mobile phone that is capable of accessing internet.
Rose Khonje, UNFPA Malawi SYP Focal point explains that, providing sexual reproductive health information to the youth using modern technology platforms such the Tune-Me mobsite is vital because it allows young people to seek information by themselves without encountering any service provider of counsellor.
"Our efforts to reach to each and every young person with SRH information would require massive investments in our outreach education programmes but with TuneMe, we are sure it has lessened the investments in other models of engagement" she said
More young people like Maureen, especially those in the urban areas continue to benefit from the information available on the mob-site without personally engaging a provider at a facility.
In each session that Maureen conducts, more than 50 young people (both boys and girls) attend.
by Henry Chimbali