On the International day of the Midwife in Malawi, UNFPA acknowledged the passion that Malawi midwives have towards their work despite working in an environment where resources are scarce, poor infrastructure and inadequate equipment. The International day of the Midwife celebrations were held under the localised theme of Midwives: For Continuum of Care for Women and Neonates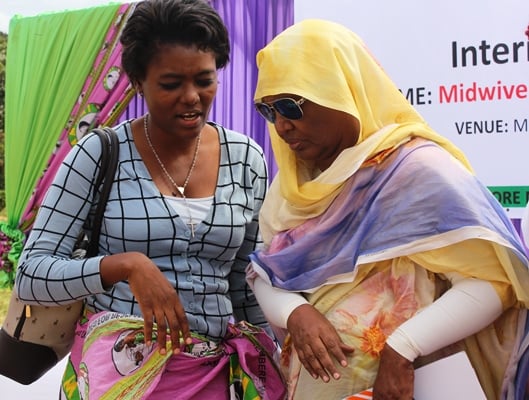 Dr. Rogaia, Representative a.i, emphasized on the call to invest in human resources for health, especially midwifery, as one the soundest investments a country can make to accelerate progress. She said midwives are the unsung heroes of women's and children's health, and their work must be supported every step of the way.
On this 2016 International Day of the Midwife, UNFPA applauds all committed midwives who work beyond the call of duty, most often in difficult circumstances and with limited resources, while they provide maternal and newborn care to women and girls around the world especially in Malawi said Dr. Rogaia, Representative a.i.
Gracing the occasion was the Secretary for Health, MacPail Magwira. Speaking on behalf of government, he assured all the midwives in Malawi that Government will continue to support them as they perform their duties. "We recognize the gaps that exist in your welfare, equipment and infrastructure to make your job easier. We will make sure that the resources we have are used appropriately and address these existing challenges" said Dr. Magwira
He also called upon the midwives to be dedicated, have empathy because their work involves taking care of two lives, that of the unborn child and the mother.
The event included a one kilometre march by midwives and other participants to sensitise communities along the way on the work that midwives do to both pregnant women and neonates.
UNFPA in Malawi supports midwifery programmes at all levels of policy and service provision by working with the Ministry of Health and all stakeholders guided by the three pillars of Education, regulation and association. Specifically UNFPA Malawi has been supporting the government in training of midwifery at undergraduate and graduate levels; regulation through Nurses and Midwives council of Malawi; supporting the Association of Midwives in Malawi, AMAMI in advocacy and capacity building of the association itself and its members.