UNFPA Malawi took part in supporting an initiative known as Mother's Day Fun Run that aims at reducing maternal deaths with a call to promote family planning in order to allow girls to grow and mature before they  start giving birth. The initiative was launched 11 years ago by one of the Malawi's leading print media house, Nation Publications Limited, with an aim of mobilizing support in form of medical equipment and supplies that are provided to a particular hospital depending on prevailing maternal health challenges.
This year, UNFPA supported the event through nurses and clinicians, branded uniforms as well as infection prevention materials. 
Speaking during the event, UNFPA Deputy Representative, Dr. Rogaia Abdelrahim commended the Nation Publications for the initiative and reaffirmed support towards the event.  She also called upon the people of Mzimba and other districts to consider family planning as an option to prevent maternal deaths.
"Going through the wards of this hospital, most of the mothers are adolescents; we must therefore aggressively provide family planning services to the girls to ensure the child grows just like the girl too", she said.
During the event, the district health officer explained that, about 40,000 babies are born in Mzimba every year, with an average of 14 babies born at the district hospital every day. The district has more than 40 health facilities where the furthest facility is located 350km from the district health office.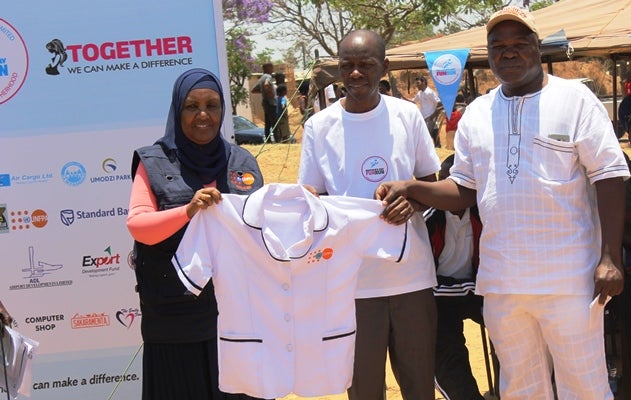 The 2016 edition of Mother's day fun run involved running a distance of about 20kms where some UNFPA Malawi staff participated. Overall, the event raised medical supplies and equipment worth about $100,000.00.