Lilongwe, MALAWI- Towera, a 29 year old primary school teacher and mother of two, had never used a menstrual cup until December 2016. With a simple introduction by her friend, Towera made the decision to try it out.
"It was my friend, Clara Mkandawire and also my neighbor, who introduced me to the menstrual cup and I was eager to try it; once I tried it, I did not feel any problems apart from the discomfort at the start", she explains.
Two months after Towera tried the menstrual cup, she became pregnant. However, her experience left such a strong impression on her that she began to advocate for the use of menstrual cups with her peers. The bold Bachelor of Arts student has become an ambassador of the product in her community.
Cost of menstrual cup Vs sanitary pads
One of Towera's main motivations for using the menstrual cup was that it is very cost effective product compared to the sanitary pads that she has to buy every month.
"I used to spend a thousand kwacha ($1.4) every month to buy sanitary pads but with the menstrual cup, I don't spend anything. I also hear that it may take about ten years before I can dispose it off", she explains.
Menstrual cup project in Malawi
UNFPA, through its innovation programme, introduced menstrual cups as an alternative measure for management of menstrual hygiene among girls and women. The Menstrual Cup was discovered in 1930 but is a very new product in Malawi.
The menstrual cup was introduced with the aim of reducing absenteeism due to menstrual hygiene challenges and keeping girls in school. The average girl in Southern Africa is said to miss about 40 school days a year due to menstruation. In Malawi, this number increases to 50 days a year. Therefore, by introducing the menstrual cup, which has a lifespan of 10 years, it has the potential to eliminate one of the obstacles hampering girls from staying in school and completing their education.
"To date 4,600 menstrual cups have so far been distributed against the 5000 menstrual cups that were procured" says Humphreys Shumba, the Innovation focal point for Malawi country office. In addition, there are 100 mentors pioneering the product for girls and women.
Humphreys Shumba also explains that media were engaged to promote awareness and responsible reporting.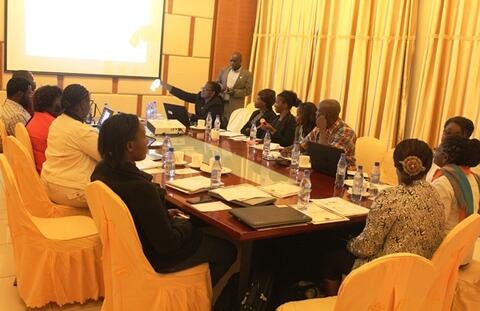 Comfortability
By its look and design, first time users feel that the menstrual cup is likely to cause discomfort for women who are using it. At first, Towera indeed felt some discomfort because she felt like a foreign object is inserted in her.
The fears which she had was that the menstrual cup might not get stuck in the cervix but perhaps slide over into her stomach. However, after a day of using the menstrual cup, she got used to it and was able to carry on with her household chores.
"I used to empty the bottle twice a day and I felt no pain in removing and inserting it again. I will continue to use it when I resume my menstrual periods because now I am breastfeeding and my baby is only two months now" she said.
–Henry Chimbali