Lilongwe- Norwegian Minister for International Development, Nikolai Astrup applauded the UN in Malawi for working together in delivering results as one. He was speaking this during his visit to Salima to learn how the Norwegian funded UN joint programme on Girls education is performing.
"The results of the UN Joint Programme on Girls Education (JPGE) are a testimony that people can work together to improve the quality of life; for the first time that I have witnessed how sectors of education, health, agriculture and gender can cordially work to achieve a common goal- education'' said Nikolai Astrup
The Norwegian Minister for International Development visited Lifidzi Primary School in Salima which is one of the 193 schools that are targeted in the JPGE programme. On his visit to the school he was taken tour of displays and engaged beneficiaries of the programme. Among the displays were the reusable sanitary pads which UNFPA is promoting in schools to ensure girls remain in school even during menstruation.
"In the past before this programme when we are menstruating we would stay home in fear of messing our clothes but we can now attend classes without any problems", said Asiyatu James, a standard eight student at Lifidzi.
Secretary for Education Mr. Justin Saidi thanked the Norwegian Government and UN for the support and recognized the results as very significant in promoting girls' education in Malawi.
"Norway is one of our biggest donors and girls' education is indeed at the hub of development and we look forward this model being further scaled up to other districts in Malawi."  He said.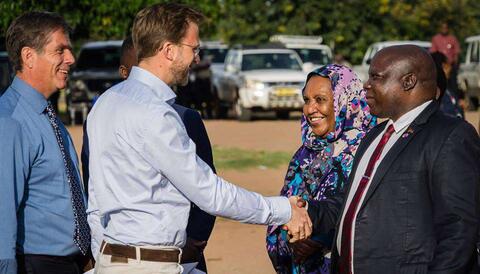 The UN Resident Coordinator in Malawi Maria Josse Torres said the JPGE model is one example of how the UN is delivering as one.
The UN JPGE commenced in 2014 and has since engaged in its 2nd Phase and is being implemented in 3 districts of Salima, Dedza and Mangochi.
During the phase one implementation, early pregnancies have reduced by 50 percent and school attendance increased to 93 percent from 64 percent among other results.
-Leticia Nangwale-