Lilongwe - Mariam Masika is a proud mother of three girls and is a chairlady of the Senga bay primary school mother group. Her day is always busy. Her role as a mother group chairperson is self-fulfilling, according to her.  She comes from Dalamkwanda village in Traditional Authority Maganga in Salima district.  In their group, there are ten women; all are married except two that are widowed. Their role is to ensure girls remain in school and complete their education in addition to providing sexual and reproductive health information. They also encourage girls that have dropped out of school due to early marriages or pregnancy return to school. "I have been performing their role since 2006 and I find it rewarding because I have seen girls returning to school and completing their education".  She cites an example of one girl, Rhoda Ibhula who dropped out of school due to pregnancy but she is now back in school. She explains that they had to go to her parents to persuade them to let the girl go back to school. "As I am talking to you, Rhoda has just written zonal examinations for standard seven; this is how rewarding our has been to us all" she explains
One great example she narrated is of Gloria Thawi, a 14 year old girl who is in standard five now at Senga-bay Primary school. At 12 years, after knocking off from school, Gloria went to fetch firewood one afternoon and she gathered more firewood than she could carry in the bandle she made. Whilst struggling, she met a man who assisted her to carry it. However, the man raped her in the end after she refused to have sex. Her ordeal never ended there. Two months later, she was pregnant, at 12 years by a man who was 52 years. At her age, she was at risk of so many birth complications. The mother group investigated the story and the man was arrested sentenced to 18 years imprisonment with hard labour in 2013. The man is serving his jail term at Nkhota-kota prison. Gloria looks traumatized and confused though she is now back to school. Her child is being taken care by her mother.
"When I see Gloria, I am amazed at how we helped her get justice and above all, get her back to school; we must protect the young girls and they must remain in school because we have examples in this village where girls have excelled and are doing well" explains Mariam.
Mother groups have proved to be a great resource in reinforcing the agenda of keeping girls in school and also ensuring girls return to school after either pregnancy or marriage. They also provide sexual and reproductive health information by holding talks with the girls at the school. "We also refer girls to community based distribution agents in an event the girl wants family planning services; we don't disclose it to their parents because this is the choice the girl has made," she explains.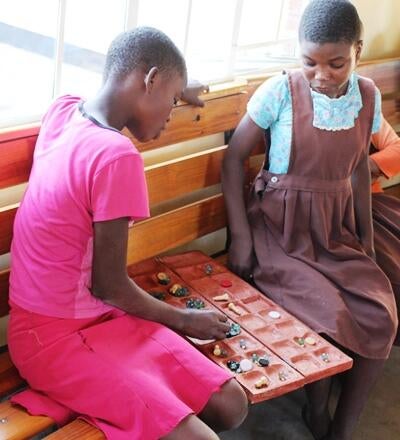 JPGE and mother group role
In a country where 58% of girls drop out of school and out of those remaining in school, 18% became pregnant and eight percent get married leaving only 25% of girls finishing primary school, through the UN Joint programme on girls' education, UNFPA has been strengthening the capacity and technical skills of mother groups to perform their role of ensuring girls remain in school. Mother groups are established for each school and comprise women that have potential to support young girls through motivation, role modelling and referral for sexual and reproductive health services. The Malawi Demographic and Health Survey (MDHS) of 2010 shows that an estimated 2.4 million children are growing up in violent homes, witness domestic violence and experience its negative impact. Additionally, it is estimated that almost half of all females have experienced violence before the age of 18 years and 20% of females experience sexual violence before the age of 18 years.