UNFPA Malawi launched the 2017 State of the world population report alongside a documentary that has an account of the lives of the girls that have been withdrawn from marriages and put back in school.
On the launch of the SWOP 2017, Chimwemwe Chipungu, Chief Director in the Ministry of Health - who was the chief guest- pledged on behalf of government-to continually invest and do even more on issues related to reducing the inequalities and make Reproductive Health and Rights as one of the indispensable socio-economic development element.
"The launch of the report is coming at an opportune time, when we are focusing on the Demographic Divided; finalizing the MGDS III and reviewing the National Population Policy" he said.
Dan Odallo, UNFPA Malawi Representative, acknowledged that the launch of the State of World Population report in Malawi is very critical as it signifies governments commitment in ensuring that the persistent inequalities are as minimal as possible.  He further mentioned that the Report urges everyone to reduce inequalities especially in women's reproductive health and rights, failing which the world will fail to achieve the Sustainable Development goals, and the reduction of poverty will be blocked.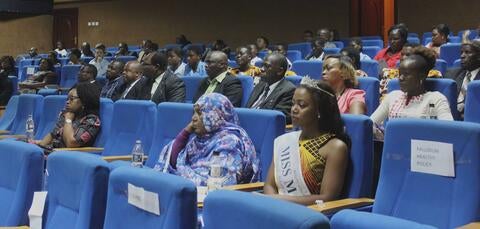 Speaking on the Untold Stories documentary- he emphasized that it is important that government and various stakeholders start to look beyond taking girls back to school and look at the bigger picture. 
"The documentary we have shown today validates the need for continuous investment the campaign to end child marriages in Malawi" said Dan Odallo.
In her speech, Senior Chief Kachindamoto who is a champion in ending child marriages in Malawi emphasized that government and various stakeholders should indeed have programmes that target these children withdrawn from marriage. "By the end of the day as chiefs, we are accused by the community because they do not see the benefits of their children going back to school, as they continue to lack basic needs like soap, school fees among others" she said.
The launch of SWOP was highly attended by Members of Parliament and the private sector representatives. A panel discussion was also held to contextualize the ten selected action points outlined in the report in order to reduce inequalities.
By Leticia Nangwale and Henry Chimbali