The Minister of Youth, Labour and Manpower development in Malawi with support from UNFPA launched the 2017 African Union theme "Harnessing the Demographic Dividend through Investments in the Youth."
The theme was proposed by The State President of the Republic of Malawi, Prof Arthur Peter Mutharika in his capacity as the UNFPA Youth Champion with support from UNFPA Malawi.
Speaking during the event, Hon. Henry Mussa, Minister responsible challenged the youth to be innovative and get out of their comfort zone to reach out for other opportunities apart from aiming at white-collar jobs.
"Most countries that have developed now have invested in their people's skills that most young people here do not see as necessary: We will not harness DD through white collar jobs only but through skills development", Hon. Mussa said
He further challenged them to change their mind-set and strive to become entrepreneurs and employ fellow young people rather than being employees.
Dr. Rogaia Abdelrahim, UNFPA Deputy Representative in her statement reassured the young people and the Government of Malawi that UNFPA will continue to support Malawi to harness Demographic Dividend through youth empowerment programmes.
"Today as we launch the 2017 AU theme and unveil the AU demographic dividend roadmap, let us aim to particularly identify priority actions for developing the youth and the role that the youth of this country will play to make the demographic dividend initiative a success in Malawi" she said.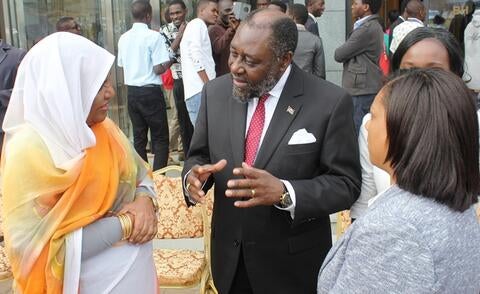 Supported by UNFPA Malawi and other stakeholders the youth had a day-long session to interact with stakeholders on what has worked and what can be improved, to turn the youthful population into a development asset. They were also involved in isolating priority areas among the five thematic pillars of employment and entrepreneurship; health and wellbeing; education and skills development; and rights, governance and youth empowerment according to the DD Malawi report.
Among other participants representing the African Union- Ms Brenda Kok urged the youth to make their voices heard and be in the fore front to ensure the country harnesses the demographic dividend.
At the end of the full day event, young people developed a work-plan which they will implement in liaison with the Ministry of Labour Youth Sports and Man power development.