LILONGWE, Malawi-More than 100 female chiefs, spouses of chiefs and initiators of rite of passage ceremonies from eight districts in Malawi have made a vow to fight early marriages in their areas of jurisdiction by uprooting harmful cultural practices that promotes the vice.
The female chiefs and wives of chiefs made the vow in Dowa, Malawi during a meeting to explore the role of women leaders in the community in reducing early-pregnancy, prevent early marriage and promote education of young and adolescent girls. UNFPA supported the meeting under the Spotlight project with funding from the European Union.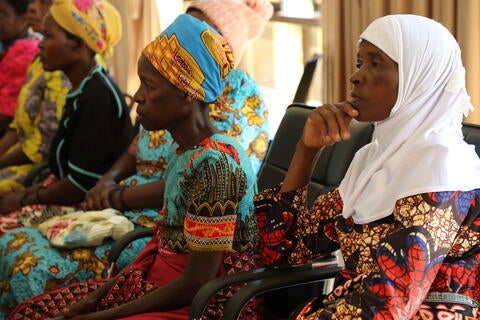 Speaking during the meeting, Traditional Authority (TA) Mwanza from Salima said she has instituted by-laws in her area banning child marriage and all practices that harm women and girls. She added that one of the practice was the popular but unquestioned practice by gulewamkulu (masquerade dancers) naked dancers that allowed them to harass women and girls during ceremonies.
Tackling harmful cultural practices
"I am a custodian of culture but I can't tolerate such abuse to happen to our young girls," she said. "I was married at 14 and didn't have a chance to proceed with my education," said TA Mwanza. "I was introduced to work and responsibilities' of an adult, which stole my childhood. The pain I felt that time is now motivating me to have girls in my area educated and get a better life."
TA Mwanza said tackling popular but harmful traditions that affects girls requires grit as chances of backlash from the community and lower chiefs is inevitable. She added that most of her decisions went against popular will but she had to stand her ground for the sake of protecting girls in her area.
According to latest statistics, 47 percent of women in Malawi are married before the age of 18, which puts Malawi on 12th in the world on early child marriages. Girls forced into early marriage usually drop out of school and therefore cannot acquire the skills and knowledge to prepare them to become economically productive adults.
Teen pregnancies causing more deaths
In Malawi, early marriage is one of the highest contributors of maternal deaths as 30 percent occur in adolescents. For those who are lucky to survive, they are likely to have medical complications such as fistula.
"We have had many problems emanating from early child marriages in Kasungu that's why we have banned all sorts of initiation ceremonies," said Mrs. Irene Kaomba, wife to Senior Chief Kaomba. "These ceremonies were feeding our girls wrong information that they are ready for sex or marriage and in the end they ended up in dysfunctional marriages or worse still dying because of complications."
According to Mrs. Kaomba, she has been working with her husband and other female chiefs to change the roles of initiators, which has seen many coopted in mother groups and other foras that promote girl-child education.
"It wasn't easy to end such age old traditions but we had to come up with some incentives such as trainings to make sure that the initiators understand the damage these practices were doing to our girls," she said. "Now, they are the ones helping us to encourage parents to send their children to school."
At the end of the meeting, the chiefs and chiefs' wives came up with commitments they will take home to help fight child marriages.
Guard rights of girls jealously
UNFPA Representative, Ms. Young Hong implored the chiefs to jealously guard the rights of girls in their areas for a better Malawi. She said early marriages subject girls to different types of gender and sexual violence, which not only robs them of their rights but also their innocence.
"My parents chose to send me to school and now I am independent and I can also help them," said Ms. Young. "Let's encourage our girls to go to school. Early marriage robs them of their future and that of their children. Babies born from baby mothers will likely remain in poverty posing incredible challenges for Malawi."
UNFPA is also working with religious and mother groups to identify and annul child marriages, and with local leaders and communities to equip girls and boys with knowledge and skills to reduce the risk of child marriage.
-Joseph Scott, Communications Analyst