Lilongwe-Malawi - After working for 17 years in the UN, Dan Odallo, UNFPA Representative for Malawi has retired. Odallo came to Malawi and worked for almost two years.
During his time, he has transformed the operations of the Malawi country office and initiated a number of initiatives aiming at transforming the lives of adolescent girls and women and also mobilizing resources for UNFPA Malawi country office programmes. He also established partnerships with different organizations among them with one of the leading media institutions, Nation Publications Limited
In his final remarks to staff, he thanked them for supporting him and called upon everyone to do the same to the new Representative.
"It was quite an interesting journey and I'm glad to have been part of it. I pray that you continue working in the same spirit as we strive to assist fellow Malawians find dignity and meaning in their lives. At the end that is what matters most" he said in his last email to all staff.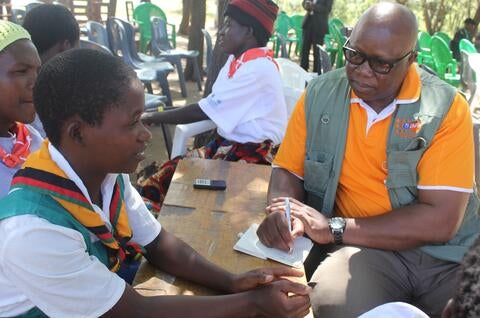 Bernard Mijoni, who spoke on behalf of all staff before presenting a gift, appreciated the spirit and the environment in which staff worked under his leadership."The times we spent with you will always be remembered and we cannot imagine the corridors of our office, our meetings, without you. We wish you would have stayed longer. Nevertheless, we wish you all the best", he said
Odallo worked as a UNFPA Representative in Eritrea before being assigned to work in Malawi in 2016 with the same responsibility.
-Henry Chimbali-