Lilongwe- The Minister of health and Population, Mr. Atupele Muluzi called on the Midwives in Malawi to celebrate their achievements especially in the country's efforts to reduce maternal deaths.  He said this during the 2018 event to celebrate the international day of the midwife.
He stressed that midwives are at the core of health care delivery and without them, quality of care and provision of sexual and reproductive health services will remain a challenge.
"I call upon every midwife in Malawi to celebrate the success you have achieved despite the challenges you face every day as you help mothers and newborns"
He said this after awarding certificate to midwives who have been recognized at the best service providers across the facilities in the country.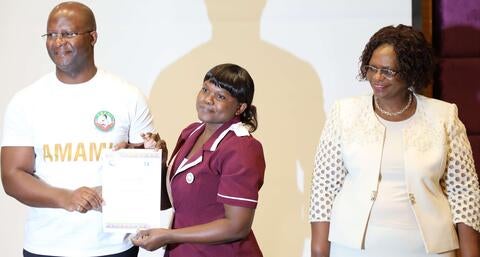 Speaking earlier, the UNFPA representative, Ratidzai Ndhlovu recognized the need to make midwifery an attractive profession by providing the necessary requirements for their daily work. "Before you actually think of increasing the numbers, Government and partners should seriously think of mechanisms to retain the current numbers of midwives with appropriate incentives" she said this in response to one of the requests made by Ann Phoya, President of the Association of Malawian Midwives AMAMI. Phoya asked the Government to train more midwives and also make midwifery as an independent profession and not necessarily integrating it with the Nursing career as is the case now.
The event was celebrated with a number of activities including a five kilometer walk in the City of Lilongwe and also presentation of the midwifery status report in Malawi. In addition, journalists were awarded certificates of excellence in reporting the plight of midwives in Malawi.
Former UNFPA international employee, a nurse midwife by profession, and now a Member of Parliament and Chairperson of the Parliamentary Committee on Health and Population, Juliana Lunguzi was present and committed her support towards the welfare of midwives in Malawi.
-Henry Chimbali