UNFPA: Delivering a world where every pregnancy is wanted,
every childbirth is safe and every young person's potential fulfilled.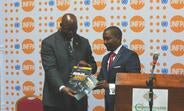 2 November 2017
The "Untold Stories" of girls rescued from child marriages
Lilongwe Malawi - UNFPA Malawi country office, in March 2017, embarked on an ambitious project to document a sample of 50 girls that have been rescued from child marriages and put back in school. The girls are from...
11 October 2017
EmPOWER girls: before, during and after crises
Girls today enjoy better life prospects than previous generations in many ways. Prosperity and nutrition are improving, child marriage and teenage pregnancy are declining, and female educational attainment and...
No vacancies currently available